Bee Time: Lessons from the Hive | Mark L. Winston
Bee Time: Lessons from the Hive
by Mark L. Winston
Bee Time: Lessons from the Hive | Mark L. Winston
Editor's note: We were initially inspired to host the Bee Audacious Invitational Conference of Experts by Mark's work, his keen intellect and obvious relationship with bees. I can't recommend this book enough! – Bonnie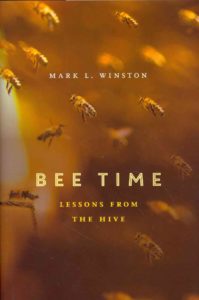 Being among bees is a full-body experience, Mark Winston says—from the low hum of tens of thousands of insects and the pungent smell of honey and beeswax, to the sight of workers flying back and forth between flowers and the hive. The experience of an apiary slows our sense of time, heightens our awareness, and inspires awe. Bee Time presents Winston's reflections on three decades spent studying these remarkable creatures, and on the lessons they can teach about how humans might better interact with one another and the natural world.
Like us, honeybees represent a pinnacle of animal sociality; how they submerge individual needs into the colony collective provides a lens through which to ponder human societies. Winston explains how bees process information, structure work, and communicate, and shows how corporate boardrooms are using bee societies as a model to improve collaboration. He examines how bees have altered our understanding of agricultural ecosystems, and how urban planners are looking to bees in designing more nature-friendly cities.
The relationship between bees and people has not always been benign. Bee populations are diminishing due to human impact; we can't afford to ignore what the demise of bees tells us about our own tenuous affiliation with nature. Toxic interactions between pesticides and bee diseases have been particularly harmful, foreshadowing similar harmful effects of pesticides on our health.
There is much to learn from bees in how they respond to these challenges. In sustaining their societies, bees teach us ways to sustain our own.
"No other book celebrates the long relationship between humans and honey bees as powerfully, thoughtfully, and enchantingly as this one. Written in lyrical prose, Bee Time is a delightful and inspiring read."  Thomas D. Seeley, author of "Honeybee Democracy"
"Bee Time is a unique book: in turn a touching memoir, a warm paean to the honey bees that have fueled Winston's impressive scientific career, and an insightful analysis of some of the serious environmental problems facing us today." Gene E. Robinson, University of Illinois at Urbana-Champaign
Mark Winston will be at the Public Panel & Report Back from the Invitational Panel of Experts at Dominican University on Dec 14th from 7p – 9p.
Awards
2014 Science in Society General Book Award, Canadian Science Writers Association
2015 Governor-General's Literary Award for Nonfiction "In his exquisite Bee Time: Lessons from the Hive, Mark L. Winston distills a life's devotion to the study of bees into a powerful and lyrical meditation on humanity. This compelling book inspires us to reevaluate our own relationships both with each other and the natural world. Vital reading for our time." Jury Statement, Governor-General's Literary Award for Nonfiction
2015. CBC Best Books of 2015
2016. Seven months on national bestseller lists, including four weeks as the number one bestselling non-fiction book in Canada
"Bee Time" is available at:
Book Passage: http://www.bookpassage.com/book/9780674970854