THOUGHT LEADERS
KEYNOTE
Larry Brilliant, Chair, Skoll Global Threats Fund and author, Sometimes Brilliant
PARTICIPATING EXPERTS
Feeling audacious? We were accepting registration applications earlier this summer.  Conference size is limited due to the format.  The panel discussion of the leaders that will be taking place on December 14, 7:00pm PST at Dominican University of California is open to the public and will be made available for viewing online.
Participants include:
Laurie Davies Adams, Executive Director, Pollinator Partnership
Patricia Algara, Co-Founder and Principal, BASE Landscape Architechure and With Honey in the Heart

Glen Andresen

, Bridgetown Bees
Jamie Armstrong, Sustainable Lush Fund Coordinator, Lush Fresh Handmade Cosmetics
Cindy Bee, Overland Apiaries and author, Honey Bee Removal: A Step-by-Step Guide
Joseph Bessetti, Beekeeper
Dr. Nicola Bradbear, Bees for Development
Zac Browning, Browning's Honey Co.
Sarah Common, Hives for Humanity
Megan Denver, Hudson Valley Bee Supply
Danielle Downey, Executive Director, Project Apis m.
Diane Dunaway, Dunaway Ranch
Karla Eisen, The Backyard Farm and founder, ApiSolutions
Elaine Evans, Ph.D. student and Wild Bee Squad Captain, University of Minnesota
Dr. Jay Evans, Research Leader, USDA-ARS Bee Research Lab, Beltsville, MD
Laura Ferguson, Director, College of the Melissae
Paul Fert, Head of Communication, Observatoire Français d'Apidologie
Erin Forbes, Overland Apiaries and Chairman of the Eastern Apicultural Society
Maryann Frazier, Sr. Extension Associate, Penn State University
Frank Golbeck, Golden Coast Mead
Dean Hannibal, Beekeeper
George Hansen, Foothills Honey Company
Ron Hanson, The Honey Bee Company
Pat Heikam, Heikam's Honey Bees
Tammy Horn, Kentucky State Apiarist
Gordon Hull, Heidrun Meadery
Nickie Irvine, Environmental Anthropologist
Dr. Li Jianke, Institute of Apicultural Research, Chinese Academy of Agricultural Science
Katie Klett, Beekeeper
Julie Larsen, Director of Communications and Outreach, Propolis-etc
Katie Lee, Midwest Honey Bee Tech-Transfer Team, Bee Informed Partnership
Dr. Frank Linton, The Beepeeker and EAS Master Beekeeper
David MacDonald, Apiary Inspector, B.C. Ministry of Agriculture and Hives for Haiti
Megan Mahoney, Bee Informed Partnership Texas A&M University Tech Transfer Team
Becky Masterman, University of Minnesota Bee Squad
Dr. Andony Melathopolous, Asst Professor of Pollinator Health Extension, Department of Horticulture, Oregon State University
Meghan Milbrath, Northern Bee Network
John Miller, Miller Honey Farms
Fanny Mondet, Researcher in Honey Bee Pathology, French National Bee Lab
Randy Oliver, Scientificbeekeeping.com
Jorik Phillips, Hudson Valley Bee Supply
Dr. Patrick Pynes, President, Northern Arizona Organic Beekeepers' Association
Dr. Nigel Raine, School of Environmental Sciences, University of Guelph
Jack Rath, Betterbee
Bob Redmond, The Common Acre, Founder and Executive Director
Dr. Wolfgang Ritter, BEES for the World,  World Organization for Animal Health (OIE)
Lauren Rusert, Apiary Section Chief, Hawaii Apiary Program
Diana Sammataro, retired USDA-ARS researcher and author "The Beekeepers Handbook"
Margaret Shanahan, El Colegio de la Frontera Sur
Jacob Shuman, Beekeeper and winner 2016 National 4-H Council Youth in Action Award
Robert Sears, President, Eastern Missouri Beekeepers Association
Leo Sharashkin, founder of HorizontalHive.com
Jamie Sherman, Managing Director,  Pollinator Partnership
Jerry Shue, MoaBees
Michael Smith, PhD Candidate, Dept. of Neurobiology and Behavior, Cornell University
Payse Smith, Project Manager, Green Spring Farm
Phyllis Stiles, Bee City USA
Billy Synk, Director of Pollination Programs, Project Apis m.
Mace Vaughan, Pollinator Conservation Program Co-Director, The Xerces Society for Invertebrate Conservation
Rémy Vandame, El Colegio de la Frontera Sur
Joris Villalba, Head of Laboratory, Observatoire Français d'Apidologie
Julie White, Long Point Honey,  Board Member, Ontario Beekeepers Association
George Wilson, The Backyard Farm and founder, ApiSolutions
VOLUNTEER NOTETAKERS / PARTICIPANTS
Ellie Andrews, Beekeeper and PhD student Dept. Sociology, Cornell University
Nicole Armos, Simon Fraser University Center for Dialogue
Ronni Brega, incoming Secretary, Alameda County Beekeepers Association
Brian Buxton, Marin Beekeeper
Debbie Gilmore, Hall's Honey and Mason Valley Beekeepers
Diane Greenberg, Marin Beekeeper
Wendi Gilson, Apiary Inspector, B.C. Ministry of Agriculture and Black Horse Apiaries
Sharon Lee Harris, Northern Arizona Organic Beekeepers' Association
Ashley Renee Heutmaker
Michalina Hunter, Green Bee Honey
Wendy Klett
Wendy Mather, Research Trial and Education Coordinator, NOD Apiary Products Ltd.
Darwyn Moffatt-Mallett, Green Bee Honey
Ann Moser, Mt. Diablo Beekeepers Assn. Treasurer
Jennifer Ratke, BioFuel Oasis worker-owner and Alameda Co Beekeeping Assn. Vice-President
Rob Rowlands, Marin Beekeeper
Sharon Schmidt, Cascade Girl Organization and Oregon Honey Festival
Rob Tysinger, Marin Beekeeper
THE ORGANIZERS
Beekeepers in Marin County and beyond
Conference Details
Main Conference – by invitation: 12/11/16 – 12/13/16, Marconi Conference Center, Marshall, California.
Panel Discussion – open to the public: 12/14/16, 7:00pm, Dominican University of California, San Rafael.  Tickets available through Eventbrite.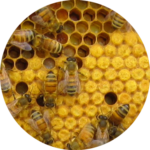 Subscribe for Bee Audacious News